Next Wednesday, June 22nd, is the 15 year anniversary of the original Fast and Furious! The Dream Car Museum is thrilled to announce that our very own Fast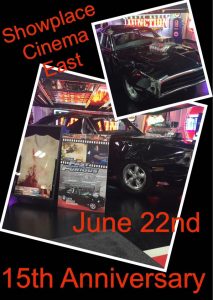 and Furious Charger will be on Display at our Local Showplace Cinema East here in Evansville IN from noon on.

This car was used during the filming of the 2001 movie that ignited an entirely new generation to the passion of cars. The 1970 Charger shown at the Dream Car Museum, and at the Showplace Cinema next Wednesday, was used during the climactic race near the end of the movie where Vin Diesel's character, Dom Toretto, crashes into a truck and dramatically flips the car multiple times.
The car is on display in the condition it was left at the end of filming and is accompanied by a wide assortment of other "Fast and Furious" memorabilia.
The viewing of the movies start at 7pm but you can see this awesome piece of history anytime afternoon.