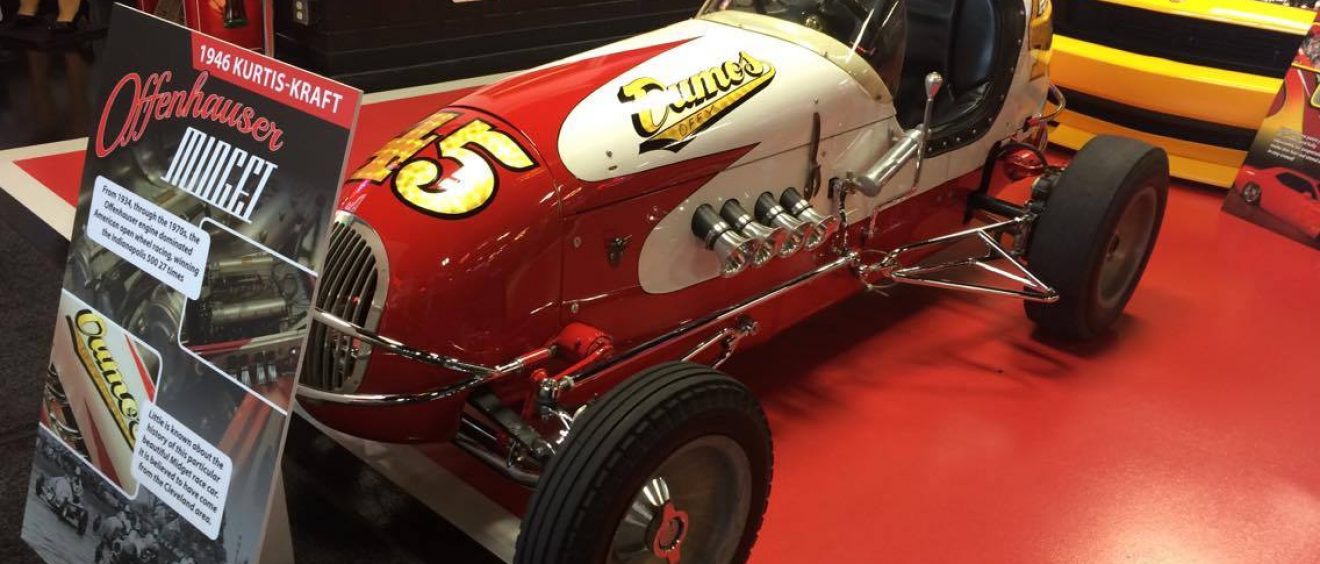 1946 Kurtis-Kraft Offenhauser Midget
One of the first things you see when you walk into the museum now is this cool little Midget!  This 1946 Kurtis- Kraft Offenhauser Midget is thought to be from around the Cleveland area but the little is known about its history. There were only about 57 of these cars built.
From 1934, through the 1970's, the Offenhauser engine dominated American Open wheel racing.  This engine won the Indianapolis 500 27 times. One of the keys to the Offenhauser engine's success and popularity was its power. A 251.92 cubic inch (4,128.29 cm³) DOHC four-cylinder racing Offy with a 15:1 compression ratio and a 4.28125-by-4.375-inch (108.744 mm × 111.125 mm) bore and stroke, could produce 420 hp (310 kW) at 6,600 rpm (1.77 hp per cubic inch (81 kW/L). Other variants of the engine produced even higher outputs of 3 hp per cubic inch (137 kW/L). Another reason for the engine's success was its reliability; its monobloc construction meant it was not vulnerable to head gasket or cylinder stud problems, and allowed for higher cylinder pressures.
Head on into the Dream Car Museum today and check out this awesome Midget!